How To Maintain Metal Hardware?
When caring for leather metal hardware, you have two main goals: (1) you want them to look great, and (2) you want to protect them. Protecting what, you ask? Oxidation and rusting. Oxidation is a chemical process in which metal surfaces react in the presence of oxygen, water and acid. Happily, you can achieve oxidation resistance and beauty every time you polish your leather metal hardware. Polishing not only provides your metal with a protective layer that inhibits oxidation but also hides scratches and gives your metal a glow. Perhaps the notion that Hollywood shine and appeal equals practicality and functionality is not so surprising after all. The type of polish you use depends on your metal. The three common types of leather metal hardware you will encounter are aluminium, stainless steel and chrome.
Aluminium
Aluminium is a fairly common metal; you've probably seen it in tyre wheels, trailers and diamond plates. It is a relatively soft metal, so you can polish it more easily and get a shiny finish. The downside is that it oxidises very easily, which is a fashion no-no. It's a defence mechanism - oxidation actually acts as a barrier, protecting the metal underneath from corrosion. It's all well and good, but as they say, the road to the "h" "e" "double hockey stick" is paved ...... Many manufacturers prefer to do the smart thing and pre-emptively apply a protective coating to aluminium so that the metal doesn't feel the need to oxidise. Of course, this means that you need to find a metal polish that is compatible with this coating, rather than simply a generic aluminium polish.
Another good reason to protect aluminium is that it has the potential to darken and corrode the leather if not properly maintained. If possible, keep shoulder straps and key chains in your bag to protect against scratches and other unfortunate effects.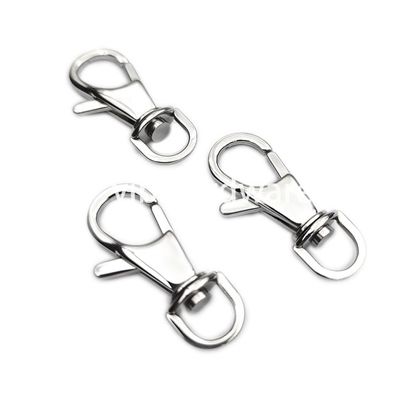 Stainless Steel Snaphook Hardware
Stainless steel
As for stainless steel hardware, if you own this type, you don't have to worry too much. Stainless steel is highly resistant to corrosion, staining, spotting and rusting. However, it will still oxidise and does require maintenance. As stainless steel is a very tough metal, it is much more difficult to get it to shine. It will take some persistence, but eventually, you should be able to do it. You should find that stainless steel is a much easier metal to maintain, even if it needs some work, and there shouldn't be too many problems in maintaining its integrity.
Chrome
Chrome-nickel plating is a common choice for many other manufacturers. Chrome is used as a plated metal. This means that the chrome acts as a cloak for another metal (ie: saddleback nickel). Chrome plating is usually very thin but is very resistant to tarnishing and holds a reflective shimmer better than any other metal. Better still, this metal (in most cases) does not oxidise. It can, however, be scratched and if these scratches are deep enough to cut through the chrome plate, they can be fatal.
In order to deal with chrome plating, you need to deal with scratches as soon as they appear. Metal debris within the chrome can cause fractures which can lead to rusting. Try to ensure that this does not happen and handle your leather with care. You can cover up small scratches by polishing them with a soft polish, but make sure you apply them with a soft cloth. In any case, Chrome is not fragile and is actually very, very strong. However, if anything is able to break through the chrome guard, your leather metal hardware may need to be re-plated.
YIBI is a reliable and reputable business partner that offers OEM/ODM services for bag/belt/cloth(leather goods) hardware/Jewelry to international brands, focusing on luxury material-Stainless steel and zirconia ceramic. Welcome to contact us today or request a quote