Why Choose Stainless Steel Handbag Hardware?
When choosing the trim for your bag, it can be difficult to pick the material that your bag is made of. One of the most common questions we get is about the difference between chrome and stainless steel. Depending on the look you want to achieve and the lifestyle you have, either metal can fit your design.
What is the difference between chrome and stainless steel?
The difference between chrome and stainless steel is in their composition. Stainless steel is a metal alloy that is not plated and contains nickel and at least 10.5% chromium, making it more durable. Depending on the amount of nickel and chromium in the alloy, different types of stainless steel can be created. Chromium, short for chrome, refers to the plating. Chromium plating covers the metalcore. It consists entirely of chromium and is not an alloy.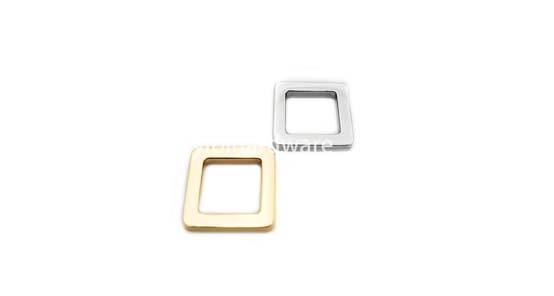 Stainless Steel Square Ring
Chromium is usually polished and very shiny, although satin and brushed varieties may be more matte. It is both corrosion resistant and highly lustrous, so it can be used for decorative and industrial purposes. It is also a very light metal. Because of their lightweight, they are easy to move and rearrange.
Stainless steel is more durable than chrome. It is resistant to corrosion, scratches, and rust. However, depending on the environment, it is not completely immune to all stains or wears and tear. It is typically used in environments where high strength, low cost, and corrosion resistance are required.
Chrome is often chosen for decorative purposes as it is brighter and shinier than stainless steel. However, because of its polished surface, it is also susceptible to scratches and tends to leave fingerprints and dirt. This can be avoided with proper care and maintenance. However, it is important to consider when choosing chrome plating - will it be touched by many people, such as children? Will it be heavily used and at risk of scratching?
Stainless steel is easier to keep clean and very durable. Even with heavy use, it is still scratch-resistant and will not dent easily.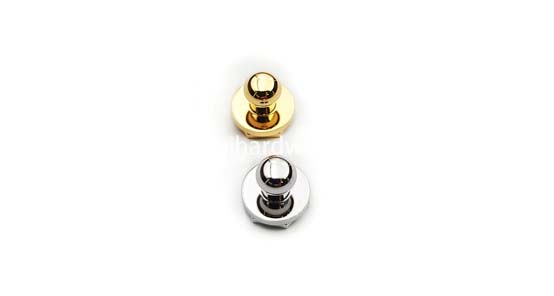 Stainless Steel Bag Stud
Why choose stainless steel handbag hardware?
Stainless steel handbag hardware has the characteristics of environmental protection, durability, resistance to fading, corrosion resistance, and non-oxidation. Stainless steel handbag hardware can be perfectly matched with bags of any material, including luxury bags.
Specialized in bag hardware
If you are looking for high-quality metal hardware (bag hardware, garment accessories), good service, and fast prototyping, then you have come to the right place. YIBI is a reliable and reputable business partner that offers OEM/ODM services for bag/belt/cloth(leather goods) hardware/Jewelry to international brands, focusing on luxury material-Stainless steel, and zirconia ceramic.
YIBI is focusing on two main stable materials-stainless steel and zirconia ceramic for hardware.MIM(metal injection molding) and CIM(ceramic injection molding) are core competitive business parts.YIBI is the only factory in China that has both MIM and CIM.
Our products include stainless steel snap hook, belt buckle part, stainless steel belt buckle, stainless steel bag buckle, stainless steel zipper slider, key ring hook, stainless steel zipper puller, stainless steel connector, etc., choose the hardware you want or contact us customize!