What Is Bag Hardware Made of?
YIBI is a professional /belt/cloth(leather goods)/ bag hardware manufacturer. YIBI is a reliable and reputable business partner that offers OEM/ODM services for bag/belt/cloth(leather goods) hardware/Jewelry to international brands, focusing on luxury material-Stainless steel, and zirconia ceramic.
Hooks, locks, buckles, chains, zipper pullers, D-rings, and many more metal accessories, our team of artisans will be happy to recommend the best solution for the production of your leather bag or leather garment. Gunmetal grey, this shade is perfect for any type of leather collection, for those seeking a sporty or elegant mood or why not seek a minimalist design.
Leather bag hardware and more
For the fashion world, high-quality accessories are essential for the purpose of a unique product. In today's world, bag hardware and metal accessories are surely the real stars of the development of a bag or leather clothing line. They can give and take away value to the final product and to our great Made in Italy tradition. We need to do thorough research to choose the most suitable colors for the customization of our bags or leather garments.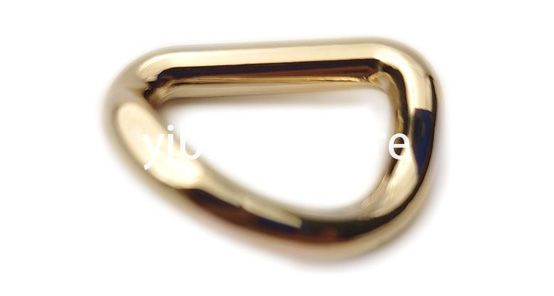 Zinc Alloy Golden D Ring
Hardware for bag-making
Gold chain, silver or old gold, maybe bronze? and approximate size, 1.5, 2 cm or? As you can see now, we are opening another difficult chapter, not only in terms of color but also in terms of the size of the accessories we love, another important aspect that we all underestimate.
The hardware of the bag
In the production of our handbags and leather garments, we use only premium hardware and metal accessories with a refined style. We offer nickel-free finishes and nickel-free metal fittings that comply with European standards. We are specialists in nickel-free and metal plus hypoallergenic finishes.
At YIBI we take very seriously, first of all, the allergy aspect, because we cannot make bags with metal or hardware that could cause health problems, even if this is a rare event. The other aspect is related to the theme of sustainability, which has been an important theme for us for several years, and in fact, we are proud to confirm that our factory is a sustainable company.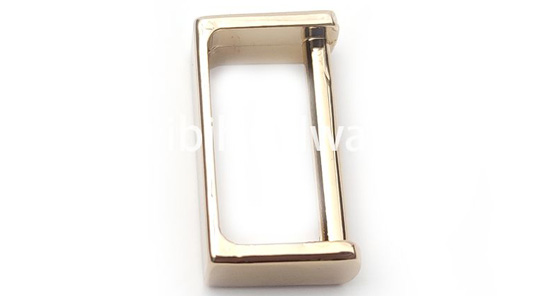 Zinc Alloy Bag Buckle
Hardware for leather bags
Work with us today to provide the best metal hardware solutions to our customers. From hooks to D-rings, from chains to zips, we offer timely and effective service. Research, innovation, and the presentation of new trends are the fundamental pillars of our future partnership. Not just basic metal fittings, but above all new solutions that benefit our new customers. With maximum attention to quality control and product assurance, we share our professional relationships with luxury brands and new designers.
Metal accessories
For the fashion world, the use of high-quality metal accessories and their components is a key priority. It is not just the resistance and style, but above all the volume, shape, and weight, all in one unique metal accessory.
If you decide to work with us, you will find all the features in your bag or leather clothing collection.
Fashion accessories, a wide range of plated finishes, and above all hardware in the field of fashion, we will use these elements to create your exclusive product.
Please contact us for more details on the production of metal bags accessories and we will be happy to help you.