Hardware – The Bling On The Bag
Depending on where you live, it seems that buying the best modern fabrics, correct interfacings, and the nicest bag hardware can be easy or difficult. It can be frustrating when you have a pattern you want to sew this week and don't have the supplies. That's why we all keep a healthy sturdy fabric and bag making supplies on hand – for when the urge takes us.

Hardware – The Bling-On The Bag
Hardware for bag making can be tricky to find and we've found the best prices and availability is definitely from these online suppliers. Still, if you only want two rectangle rings and a buckle, prices can be high. Buy purse hardware in bulk however and the prices drop enormously – a pack of 100 can be cheaper than buying 10! So check out our favorite bag hardware and notions bag hardware supplier here.
YIBI – we love YIBI for our hardware supplies and you can get such great prices if you buy in bulk. Don't be afraid to order from overseas suppliers too for even better pricing although it may take longer for your supplies to arrive.
Zip Basics
Z01 What is the type of zipping I have?
The type of zipping is determined by the zip chain (teeth or coils).
Plastic molded zips are the most common type used in heavy-duty jackets. For YKK brand zips, Vislon is used to indicate a plastic zip, so you will often see 5VS, 8VS, or 10V. Other zip brands may only have a number to indicate the size.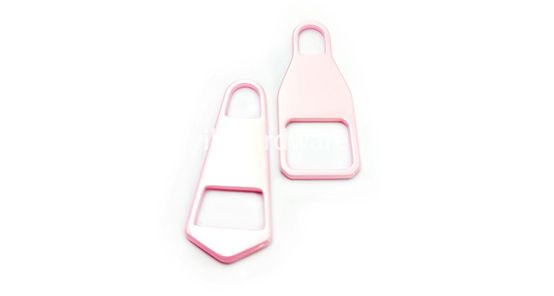 Zipper Puller
Metal zips are also popular in thick coats or jackets.
Coil zips are usually used for light or medium jackets.
Reverse coil zips are used to minimize or hide the presence of the zip. These are "reversed" from coil zips so that the coil faces inwards and is not visible from the front.
Z02 What is my zip size?
A zipper size is a number usually printed on the back of the slider. It may be accompanied by letters forming a code that contains additional information such as the type of zipping or batch. Below is an example of a YKK 5VS (size 5 plastic) zip.
Z03 How many sliders does my zip have?
The zip on the left has one slider and is called a one-way release zip. The zip on the right has two sliders and is known as a two-way separation zip.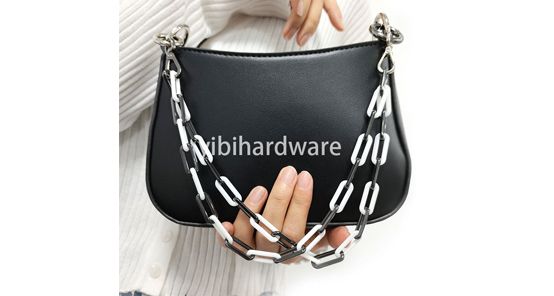 Zirconia Ceramic&Stainless Steel Black White Chain
Z04 Is my slider on the left or on the right?
Different companies may use different conventions to define left-handed and right-handed. Some companies use "left" and "right" to describe which side of the zip slider is seen from the perspective of the person wearing the jacket. When ordering our inserts, please specify whether the slider is on your left or right side when you are wearing the jacket.
Z05 What is the length of my zip?
The zipper length is measured from the top zip stop to the bottom zip stop. This length does not include the additional tape beyond these stops.
Z06 What is the difference between YKK "5V" and YKK "5VS" zips?
About 10 years ago, YKK changed the production of its size 5 and 8 sliders. Size 10 sliders were not affected by this change.
YIBI is a reliable and reputable business partner that offers OEM/ODM services for bag/belt/cloth(leather goods) hardware/Jewelry to international brands, focusing on luxury material-Stainless steel, and zirconia ceramic. Shop for our high-quality zipper puller, welcome to contact us today or request a quote.